Hi, I'm Alana
I'm a Hawke's Bay mum of two.
When I was constantly changing my wee boy's dirty clothes, and dealing with the never-ending pile of washing that went along with that, I got thinking… there must be better way.
So I got to work and made him a pair of protective coveralls. The delight of being able to pull off the grubby, muddy overalls to find clean, fresh clothing underneath was the best thing! The positive feedback from other parents spurred me on to turn my idea into a business and Mud Mates was born.
Mud Mates give me more time to enjoy my littlies (instead of worrying that they'll ruin their clothes). I love that our products help other mums by reducing their washing pile and saving them time and money!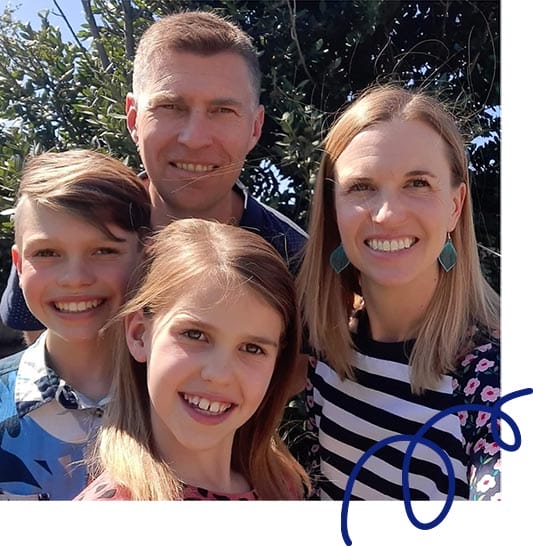 Our Products
The Mud Mates range has expanded now and I'm extremely proud that each piece is individually handcrafted to the highest quality in Napier, New Zealand.
Our water-repellent and water-resistant Coveralls, Overpants, Craft aprons and Shoe Covers and waterproof Fleece Lined Overpants make messy play and outdoor adventures a pleasure to deal with. All garments are lightweight, yet durable, easy to get on and off and comfortable for children to wear without restricting their movement.
In 2016 we introduced Fitted Tablecloths and personalisable Swim Bags to our range of NZ made products. Our table covers are designed to protect table tops and save valuable time by making clean up easier and quicker. They're proving very popular with both parents and early childhood centres.
Why Choose Us?
Mud Mates are great for wearing to day care, playcentre, in the sandpit, on the farm, at the playground, watching sports, painting and any other messy activities and outdoor adventures that children love. So throw them over any outfit and relax while your child makes a mess, because Mud Mates are the only thing you'll have to wash!
We sell to and are highly recommended by parents, caregivers and childcare centres throughout New Zealand and overseas. Check out what our happy customers have to say here.
You can trust Mud Mates to keep your precious little ones clean and dry – I certainly do!
Find out more about our kid's waterproof and water-resistant clothing range here.