Get set for Summer and save 15% with our Kids Summer Accessories Pack!
What's Included in the Kids Summer Accessories Pack?
This fantastic Kids Summer Accessories Pack includes a cute Reversible Kids Sun Hat, a gorgeous pair of Kids Sunglasses and a handy drawstring Swim Bag which can be personalised with your child's name.
Your child will be ready to hit the beach or pools in style!
Kids Sunglasses
Protect little eyes with our range of stylish, stay-put, durable sunglasses. They are comfortable to wear and designed for babies, toddlers and young children aged 2 months – 5 years.
These meet the Australian/New Zealand standard AS/NZS 1067:2016) and provide 100% UVA and UVB protection and high sun glare reduction. Read our article 'Protecting your Child's Eyes' to learn more about what you can do to protect your children's eyes.
Adventure Banz Baby and Kids Sunglasses
Adventure Banz is one of the most suitable range for babies as the soft silicone nose and brow piece makes them the most comfortable fit. They feature a stay-put wraparound headband with Velcro adjustment for comfort which also keeps the sunglasses in place and allows for growth.
Baby Banz: 2 months to 2 years – fits between 43cm and 52cm.
Kidz Banz: 2 year to 5 years – fits between 48cm and 55cm.
Beachcomber Baby and Kids Sunglasses
Designed for style and comfort, the Beachcomber range features 'flexible frame' technology – a robust, soft rubber frame which allows the frame and the arms to bend under pressure without breaking.
The Beachcomber range also features polarized lenses and each pair comes with a soft case that doubles as a cleaning cloth.
Baby size fit from 2 months to approximately 2 years
Kids size fit from 2 years to approximately 5 years

Reversible Kids Sun Hats
Ensuring your child is protected from the sun's harmful effects is a top priority, and our Reversible Kids Sun Hats make it easier and more stylish than ever.
Our UPF50+ protective fabric blocks 98% of UV rays while providing breathability and comfort, ensuring your little ones stay safe while having fun in the sun.
Fully reversible with a pattern on one side and a coordinating solid colour on the other, you get two hats for the price of one.
We have 6 great designs to choose from and 2 different sizes:
Under 2 years – available in Botanical, Cats and Unicorns, Jungle, Rainbow and Space
2-5 years – available in Cats and Unicorns, Jungle, Rainbow, Sharks and Octopus and Space
Plain or Personalised Swim Bags
Our multipurpose drawstring bags are ideal for beach trips and swimming lessons or using as a library or sports bag too. Made with our waterproof fabric, the Mud Mates Swim Bag has been cleverly designed to keep the moisture inside the bag… no more leaky bags!
Kids love the bright colours and seeing their name! The personalisation saves lost togs and helps boost your littlies pride of ownership.
Proudly handcrafted in New Zealand, Mud Mates' Swim Bags are machine-washable, durable and long-lasting and a great eco-friendly alternative to using plastic bags.
Bag Colours: camo (+$2), green, pink, pink camo (+$2), navy, red, royal blue, turquoise
Colours for the Name: navy, orange, pink, red or silver
Size: 33cm x 42cm tall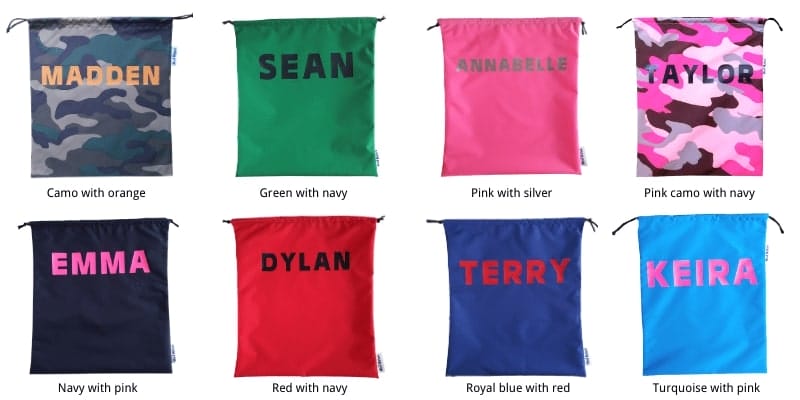 If your child is dreading swimming lessons or is afraid of water check out our blog, Helping Kids Afraid of Water. Our simple tips will help you build their water confidence and let everyone enjoy beach trips and pool time this summer!
To purchase a Kids Summer Accessories Pack simply select your size and colour combinations from the drop boxes near the top of the page.