SAVE MONEY WITH A KIDS SWIM PACK
We've bundled together three swim essentials to save you 15%!
What's Included in the Kids Swim Pack?
This fantastic Kids Swim Pack includes a quality, kids lycra or silicone swim cap, a pair of bright, fun goggles and a wonderful drawstring swim bag which can be personalised with your child's name.
Your child will be ready to hit the beach or the pools in style.
Kids Goggles
Start your child's swim adventure off right with a pair of quality Aqualine kids swim goggles. All of our goggles feature fogbuster anti-fog lenses for extra moisture control and clarity of vision along with maximum UV protection to block 100% of the sun's harmful UV rays during outdoor pool play.
Choose from two different styles/sizes and a range of fun colours.
Rainbow Goggles – Under 5 Years
These junior goggles are made from soft silicone and feature a quick release clip system – simply pull the strap towards the back of the head to tighten and push the buttons on the side to release.
Funkies Goggles – 3 – 12 Years
Funkies goggles for toddlers and children feature a teardrop eye shape, curved lens and curved gaskets for more vision and like the Rainbow goggles, are perfect for indoor or outdoor swimming.
Kids Swim Caps
Choose from our selection of lycra or silicone kids swim caps in a range of fun designs and colours.
Lycra Swim Caps
Made from soft, stretchy lycra fabric these kids swim caps are great for babies, toddlers and younger children as they are durable and very easy to get on and off without pulling hair. Designed specifically for children up to approximately 8 years of age.
Choose from 4 fun designs.

Silicone Swim Caps
These bright, fun fish caps are designed for children up to approximately 4-5 years of age and are a soft, quality silicone cap which will help keep your little one's hair dry.

Made from the same quality silicone fabric, these multi-coloured swim caps for children 4 years to adult have a highly elastic texture making them comfortable for children to wear. Ideal for keeping hair out of the eyes, helping keep hair dry and protecting the hair from chlorine damage.
Plain or Personalised Swim Bags
Our multipurpose drawstring bags are ideal for beach trips and swimming lessons or using as a library or sports bag too. Made with our waterproof fabric, the Mud Mates Swim Bag has been cleverly designed to keep the moisture inside the bag… no more leaky bags!
Kids love the bright colours and seeing their name! The personalisation saves lost togs and helps boost your littlies pride of ownership.
Proudly handcrafted in New Zealand, Mud Mates Swim Bags are machine-washable, durable and long-lasting and a great eco-friendly alternative to using plastic bags.
We offer 2 great sizes to choose from and each provide plenty of room for wet and dirty clothing and footwear.
Standard size (33cm x 42cm) is ideal for babies, toddlers and young children.
Our new Large wet bag (37cm x 47cm) is perfect for older children (and adults) with larger clothes and shoes.
Bag Colours: camo (+$2), green, navy, pink, pink camo (+$2), red, royal blue, turquoise
Colours for the Name: navy, orange, pink, red or silver
Size: Standard measures 33cm x 42cm tall. Large measures 37cm x 47cm.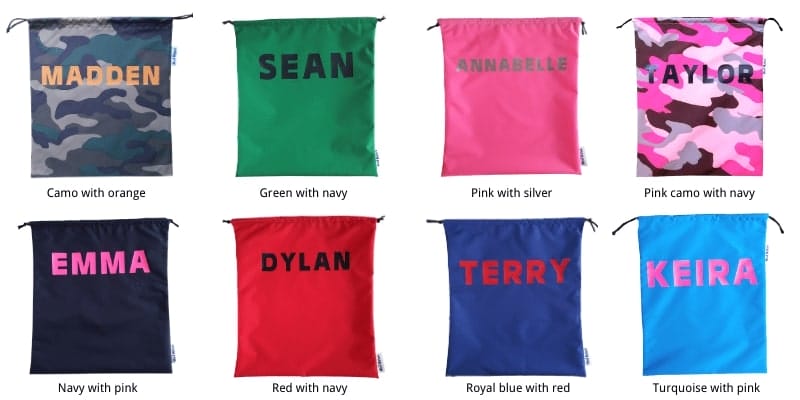 To purchase a Kids Swim Pack simply select your size and colour combinations from the drop boxes near the top of the page.
If your child is dreading swimming lessons or is afraid of water check out our blog, Helping Kids Afraid of Water. Our simple tips will help you build their water confidence and let everyone enjoy beach trips and pool time this summer!