Needing some Easter craft ideas to try between scoffing those cream eggs? We hunted high and low and even asked the Easter Bunny for some suggestions on his favourites to share with you here today. We managed to narrow it down to our two favourites, and we're sure you and your kids will love them too!
We've got two Easter craft ideas for your family: a Paper Quilled Easter Egg and Chalk Pastel Bunny Art. Let's get crafty!
Two of Our Favourite Easter Craft Ideas for Kids
Chalk Pastel Bunny Art
First, let's jump into Easter craft mode with the instructions for a hopingly stunning piece of Chalk Pastel Bunny Art (sorry, not sorry for the puns!).
What you'll need:
thin black cardboard
medium thickness cardboard (this is for the template so an old box will do)
scissors
chalk pastels
painters tape/removable sellotape
Instructions:
On the thicker cardboard, draw a bunny shape which is about 2/3 of the width and length of the black paper. Cut out the shape outline.
Put tape on the back of the white cardboard and stick it to the middle of the black paper. This stops the shape from moving around as colours are added around the outside.
Start colouring in around the outside of the cardboard template. Make sure that the lines made with the pastels around the template are wide.
Once the template outline on the black paper has been coloured, use your fingers to smudge the colours outwards towards the edges of the paper. Keep your fingers moving outwards only when smudging to avoid the colours smearing together.
Once the smudging is finished, take the cardboard template bunny shape off and ta-da – one of our Easter craft ideas is complete!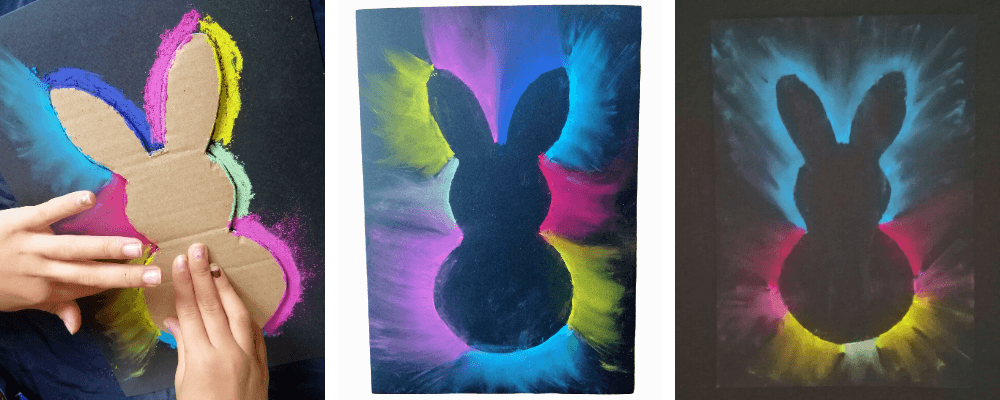 Paper Quilled Easter Egg

Next on our list is the Paper Quilled Easter Egg, but relax because we're not saying it is an alternative for a chocolate egg! Rather, it can be something that the kids make to give to the Easter Bunny or decorate their Easter baskets with.
What you'll need:
one piece of plain or coloured cardboard
few pieces of thin coloured cardboard or paper
scissors
pencil
craft glue
Instructions:
Draw a large Easter egg shape on one piece of card and cut it out.
Using a range of colour cardboard/paper, cut long, skinny strips to quill with (approx 1cm wide).
Wrap a strip around a pencil tightly.
Slide the paper off the pencil and dip the bottom into your glue (or brush some glue on to the egg shape).
Stick the rolled paper onto your card Easter egg and press down gently until it sticks.
Cover the egg shape in rolled paper designs or create patterns and leave to dry.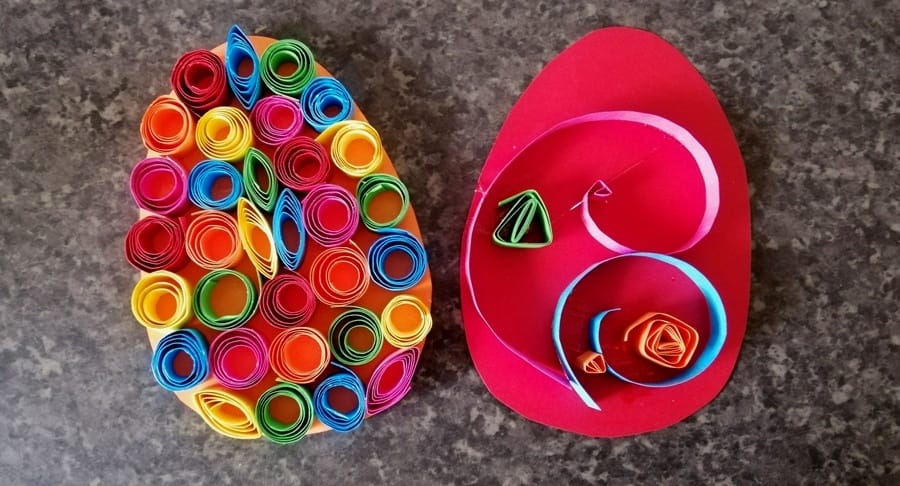 While you're here, take a look at our other Easter craft ideas too:
And don't forget to make clean-up a breeze with our Fitted Tablecloths and Craft Aprons too!
For messy play inspiration and kid friendly activities sign up to our newsletter.