This 2 ingredient, taste-safe sensory foam is easy to make and oh so much fun! It is made using the liquid from a can of chickpeas (known by foodies as aquafaba). Yes, really! 
Sensory activities challenge our toddlers and young children. By providing sensory play experiences, you can help develop your child's understanding of the senses of touch, taste, smell and sound. And this fun sensory foam material will have them enthralled for hours! 
What you'll need:
Liquid from one can of chickpeas
1/4 teaspoon cream of tartar
Food colouring (optional)
Bowl
Electric mixer
How to Make Taste-Safe Sensory Foam
Add the chickpea liquid and cream of tarter to a mixing bowl. 
Beat on high with an electric mixer until stiff peaks form (approximately 4-5 minutes).

Add a few drops of food colouring (if using) and gently stir. 
If you want to make more than one colour, double the recipe and separate into bowls before adding the different colours.
Simple! Pop the foam into a sensory bin or large container, pop on your littlies Craft Apron or Coveralls to protect their clothes and let your child explore.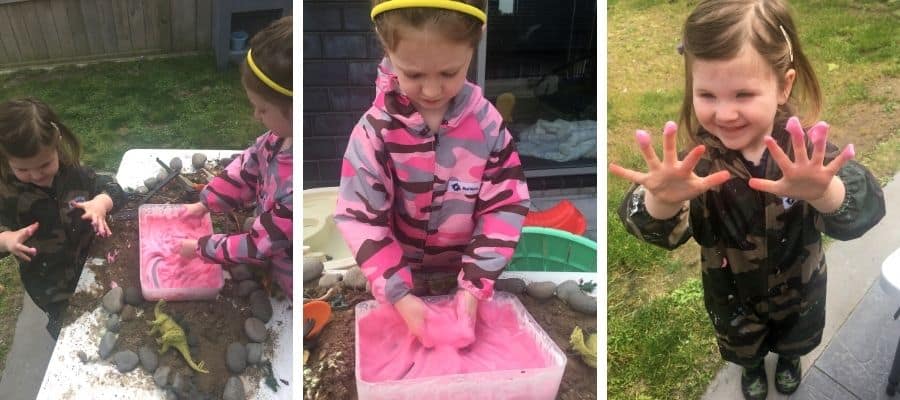 Sensory play is not just play, it's also educational! Some of the benefits of playing with this sensory foam are:
language development
observational skills
fine motor skills
calming skills
For more sensory and messy play inspiration and fun crafts and activities for kids sign up to our newsletter. You can also follow us on Facebook, Instagram and Pinterest for more inspiration.
Things are starting to look spooky around Mud Mates headquarters, and it's all due to [...]